Greetings,
I extend a warm welcome to you as the CEO of KAL Pharmaceuticals PLC. My name is Yenenew, also known as Yani, and I am honored to lead a company that is dedicated to advancing health and well-being in Ethiopia and beyond. With a wealth of experience spanning over 15 years in local and international business, I take pride in steering an organization that serves as a beacon of health.
At KAL Pharmaceuticals, our vision transcends geographical boundaries. We aspire to create a world where health is a universal right. Since our establishment in 2018, we have committed ourselves to import and distribute high-quality pharmaceuticals, healthcare products, and medical devices. Our mission is clear: to meet the diverse healthcare needs of the Ethiopian population and contribute positively to global health.
Our dedication is not confined to Ethiopia alone; we aim to be a catalyst for positive change on a global scale. Rooted in the belief that good health transforms individuals and societies, our philosophy is embodied in the motto "Elevating Ethiopia to Global Health!" Join us on this journey toward a healthier and brighter future. At KAL Pharmaceuticals PLC, we are more than a company; we are a pledge to make a meaningful impact on the world's health landscape.
Elevating Health Together,
Yenenew (Yani)
CEO, KAL Pharmaceuticals PLC
Chief Pharmaceutical Officer (CPO)
An accomplished and licensed pharmacist with over 18 years of extensive experience in the pharmaceutical industry, holds a critical role as the Pharma Business Development Manager at KAL Pharmaceuticals PLC. His wealth of expertise encompasses diverse roles, including medicine dispensary, serving as a medical representative for multinational companies, and contributing as a technical and operations manager within Ethiopia.
In his capacity at KAL Pharmaceuticals, Mr. Mekdim plays a pivotal role in steering various dimensions of the company's operations. His responsibilities range from business development and marketing to regulatory compliance, reflecting a comprehensive understanding of the pharmaceutical landscape. With a strong focus on product registration, market surveys, procurement, logistics, and distribution. 
Mr. Mekdim's contributions significantly enhance KAL's ability to navigate the complexities of the pharmaceutical industry. His dedication to regulatory compliance, quality assurance, and quality control aligns seamlessly with KAL's commitment to delivering high-quality and compliant pharmaceutical products. As a senior member and a founding pillar of KAL Pharmaceuticals PLC, Mr. Mekdim Admassu's wealth of experience is integral to the company's success and its mission of "Elevating Ethiopia to Global Health.
Mrs. Metsihet Muhe, our distinguished General Manager, embodies more than 12 years of invaluable experience, making her an indispensable asset to KAL Pharmaceuticals PLC. Armed with a degree in management, she has demonstrated exceptional crisis management skills, navigating the pharmaceutical landscape with resilience and strategic prowess. Metsihet's adept handling of challenges has not only protected the interests of our company but has also paved the way for transformative opportunities.
Beyond crisis management, Metsihet's leadership is distinguished by her commitment to fostering a positive and collaborative work culture. Her visionary approach emphasizes open communication, employee well-being, and a spirit of teamwork. As a result, our team operates harmoniously, contributing to an environment that encourages innovation and productivity. In her role as General Manager, Metsihet's strategic insights have been pivotal in shaping and executing our business initiatives. Her ability to align our goals with market trends has ensured sustainable growth and positioned KAL Pharmaceuticals as a dynamic player in the pharmaceutical industry.
Director of Medical Devices
Dr. Zelealem Assfaw's specialized knowledge in clinical radiology makes him an invaluable asset for KAL Pharmaceuticals PLC, particularly in the identification and distribution of medical devices related to radiology. His 13 years of experience, coupled with a deep understanding of ultrasound, CT-scan, MRI, and almost all medical devices in radiology, positions him as a key player in expanding our company's offerings in the field of diagnostic imaging.
As a seasoned radiologist, Dr. Zelealem can play a crucial role in assessing the market for advanced radiological equipment and technologies. His insights can guide our company in selecting cutting-edge medical devices that align with industry standards and meet the evolving needs of healthcare professionals.
Furthermore, Dr. Zelealem's background as a General Practitioner and ART Physician provides a holistic perspective on healthcare, allowing him to contribute to a diverse range of medical products and services offered by KAL Pharmaceuticals PLC. His expertise can enhance our portfolio and ensure that we provide comprehensive solutions to healthcare facilities and practitioners.
In essence, Dr. Zelealem Assfaw's wealth of experience positions him as a key contributor to our company's growth and success, particularly in the realm of medical devices, where his insights can help shape KAL Pharmaceuticals as a leading distributor of advanced radiological technologies.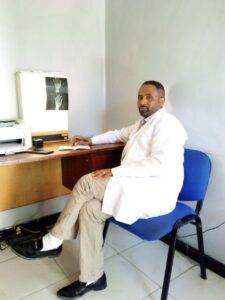 Regulatory Affairs and FDA Compliance Consultant
We are pleased to introduce Mr. Dawit Hailu Eguale, a seasoned pharmaceutical consultant who has significantly contributed to KAL Pharmaceuticals for the past three years. Holding a Doctor of Pharmacy degree and being a licensed pharmacist in Maryland and Virginia, Dawit brings a wealth of expertise to our team.
With a background as a Staff Pharmacist at Walgreens and CVS/Health, coupled with regulatory pharmacy experience with CMS, Dawit's insights have proven invaluable in navigating the pharmaceutical landscape. His role as a Consultant at KAL Pharmaceuticals involves advising on regulatory affairs and international compliance, leveraging his extensive experience in the industry.
Dawit's commitment to regulatory compliance, including FDA regulations, adherence to policies, and active involvement in immunization delivery align seamlessly with KAL Pharmaceuticals' mission. We are privileged to have Dawit Hailu Eguale contribute to our team from his base in the USA, and his ongoing consultancy continues to play a crucial role in our journey toward excellence in healthcare.